SIT BACK AND LET iROBOT VACUUM CLEANERS MESMERIZE YOU
Spick and span are what an immaculate person desires when it comes to their surroundings.
iRobot Corporation is mainly focused on creating the Epitome of Roomba Robot Vacuum Cleaners. We all used to be familiar with hand operating vacuum cleaners to the time they got all Robotic. Let's scrutinize one of renowned series, The e Series of iRobot Roomba.
iRobot Roomba E SERIES
Roomba E is a fantastic iRobot series with their two incredible Robot Vacuum Cleaners that we'll primarily focus on, iRobot Roomba e5 and iRobot Roomba e6 Models. Let's highlight their features and help you guys choose the best choice!
(Hint: Both Roomba e5 and e6 have almost the same hardware and both share the amazing technique of cleaning. E6 may have some extras. But e5 is more budget-friendly. We would recommend E6 if budget is not an issue.)
Where To Buy
The best deal for Roomba E6 is available on Walmart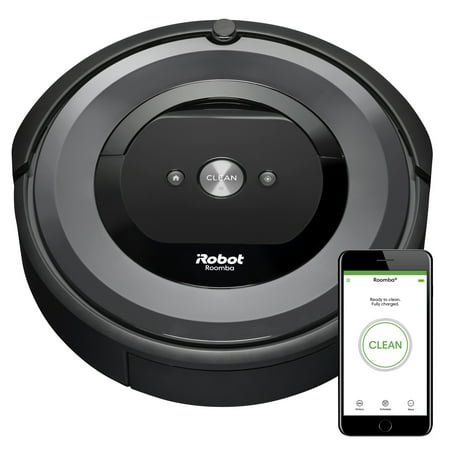 Best deal for iRobot Roomba e5 is available on Amazon
Comparison Chart Roomba E5 Vs E6
| Features | Roomba e5 | Roomba e6 |
| --- | --- | --- |
| Virtual Wall Devices | No | Yes, 2 |
| Extra Filters | Available for purchase | Available for purchase |
| Power Suction | Yes | Yes |
| Color: Pale Gold | No | Yes |
| Color: Sliver | Yes (Only at Sam's Club) | No |
| Pet Hair and Allergens Removal | Yes | Yes |
| Rubber Brushes | Yes | Yes |
| Long Battery Life | Yes | Yes |
| Compatible with HOME App | Yes | Yes |
| Dirt Detect Technology | Yes | Yes |
| Edge Sweeping Brush | Yes | Yes |
| Washable Dust Bin | Yes | Yes |
| Battery | 3300mAh lithium-ion | 3300mAh lithium-ion |
| Smart Navigation | Yes | Yes |
| Cliff Detectors | Yes | Yes |
| Collection Bin Capacity | 0.7L | 0.7L |
| Warranty | 1 Year | 1 Year |
| Charge Time | 3h | 3h |
| RunTime | Upto 90 Minutes | Upto 90 Minutes |
| Weight | 7.2 pounds | 7.2 pounds |
| Size | 13.3×13.3×3.6 inches | 13.3×13.3×3.6 inches |
| Color | Black on Black | Tan on Black |
THE STARS OF THE iROBOT ROOMBA e5 SERIES
iRobot Roomba e5 is diversified into two main sub-models, Roomba e5 5150 and Roomba e5 5134. These two models aren't contradictory to each other widely, as the significant difference lies in their colour scheme only.
The e5 (5134) model comes in a Silver and Black colour scheme, while the e5 (5150) model comes in entirely black colour. Some users expertise portray that e5 5134 might be an upgraded version of the Roomba 690 Model.
Specifications:
| | |
| --- | --- |
| Retail box Dimensions | 5.08 x 16.14 x 20.08 |
| Robot Weight | 7.2 lbs. |
| Robot Dimensions | 13.3 inches width x 3.6 inches high |
| Battery Type | Lithium-Ion |
The iRobot limited warranty shall not apply to failures or problems which are caused by products or equipment not authorized by iRobot Corporation.
THE STARS OF THE iROBOT ROOMBA E6 SERIES
iRobot Roomba E6 Series is notorious for its 3 Stage Cleaning System. It includes Multi-surface rubber brushes, powerlifting suction, a high-efficiency filter and various other amenities. All these features have sparkled the E6 series and have enabled it to stand at far with the rest. It includes various models. Our prime focus is on iRobot Roomba e6 (6198).
Specifications:
| | |
| --- | --- |
| Retail box Dimensions | 5.08 x 16.14 x 20.08 |
| Robot Weight | 7.2 lbs. |
| Robot Dimensions | 13.3 inches width x 3.6 inches high |
| Battery Type | Lithium-Ion |
The iRobot limited warranty shall not apply to failures or problems which are caused by products or equipment not authorized by iRobot Corporation.
Also, Read Our reviews of shark ion P50 shark vacuum cleaner
WHAT MAKES iROBOT ROOMBA e5 AND iROBOT e6 SIMILAR?
iRobot Roomba e5 and iRobot Roomba e6 are spectacularly similar to a lot of extents. Well if you're colour specific then, of course, it'll be your choice whether to go with Roomba e5's stunning Black or Roomba e6's Silver savagery. To wise men, Colours shouldn't be a major factor confined with material objects, but at the end of the day, it's your heart and your own choices.
STUN YOURSELF BY THE EFFICACIOUS FILTRATION SYSTEMS
Keeping in spark their other similarities, we should know that e5 and e6 share the same battery Lives, i.e. 90 minutes, which enable the models to function at astounding durations and even recharge on their own. We'll look into this feature ahead.
Their Filtration System is of High Efficiency, which has made their cleaning ability far more convenient than ever before. They even have the same Dimensions, 13.4×13.4×3.6 inches.
They weigh around 7.23 Lbs.
BUCKS FOR FOREVERS!
Well if you find yourself in a situation where you cannot afford bucks but can make a wise decision to go for fewer dollars and high leverage over features, you go for e5. In contrast, if you deeply rely on the long journey of togetherness, you go for e6. All the models with minute modifications as compared to their predecessors vary in terms of money. It won't be a wise choice to go for a new model and spending bucks over a small deal.
VIRTUAL WALL DEVICE
Also, e6 stands at par when it comes to dual-mode virtual wall device; this feature protects your cleaner and makes your work feasible.
Related: irobot Roomba 650 vs 770
ANOTHER FEATURE THAT'LL MAKE YOU GO WOW
Roomba iRobot Vacuum Cleaners come with Battery Operated Towers which are applicable with their Containment Methods. These are very feasible and efficient. You wouldn't need to bother cutting tape pieces or take the help of electrodes as is done by other manufacturing products.
Dual Mode Barriers are also included. Initially, Single-Mode Towers were common which were always in use, but then this technology turned over a new leaf with the Light House that only made it possible for the robot to pass by after some time.
The latest version is the Linear Mode where interestingly you can block the entrances and exits of a place, specifically your room. The astounding aspect is found in the infrared rays extension up to ten feet.
While The Halo Mode intends to create a four-foot diameter infrared ring. It offers contentment in the form of protection of your cosy home objects like your iron stands or your laundry baskets or your pet's little home or your bird's cage. Everything will be protected.
iRobot Roomba e5 doesn't come with any such technology, but iRobot Roomba e6 is lucky enough to be blessed by it.
Some significant striking similarities amongst the two are further discussed below.
The PRETTIER THE BETTER!
Well, Roomba e6 particularly e6(6198) and Roomba e5 both are utterly identical. Thanks to iRobot for imparting them with different colours and making it an ease for us to identify them. The colour ranges from Silver Linings to Stunning Blacks and a few other shades. What must a colour impact on when it's the real function that matters?
iROBOT ROOMBA VACUUM CLEANERS CAN SENSE SMART!
The Navigation Technology used in both Roomba e5 and Roomba e6198 is robot adapt. It serves as sensors and enables the robots to sense their surroundings. It also helps to overcome hurdles on its own.
Due to this sensing technology, the robot can also protect itself from falls. Roomba Robots can sense cliffs and withhold themselves from their damage. They can easily protect themselves from falling off objects or tripping over the stairs, and you needn't worry about looking after them.
EFFICIENT CLEANING TECHNIQUE
Both Roomba e5 and Roomba e6 share this amazing technique of cleaning. They contain bristle less brush roll system which aids in immaculate and feasible cleaning.
This Brush Roll System has ensured to carry out meticulous cleaning more efficiently.
SWEEP THE DIRT OFF THE EDGE
iRobot Roomba e5 and iRobot Roomba e6198 are equipped with the technology of the edge sweeping brushes which rotate and sway your mess away. While the Edge Brush is under the action, the vacuum tilts a bit and makes it convenient to function and carry the dirt and debris under.
WOAH! iROBOT ROOMBA VACUUM CLEANERS ARE SUCH A PRO!
Roomba e5 and Roomba e6198 can be connected to Wi-Fi and hence to your phones. You can also download their App iRobot and enjoy the fantastic auto journey of your robot. You can easily pair your iRobot e6 with an Amazon Alexa or Google Assistant Device for voice control. Using Amazon Alexa, you can also adopt the voice commands technology for your robots. Speak to them, and they'll slay your command.
SMARTPHONE APPLICATION
You need not worry about Remote Controls anymore while using the Roomba e6. You can easily tackle this by connecting it with your Android or iPhone and see the magic.
What's fascinating is that the iRobot HOME App lets you enjoy an ideal experience at home. You can manage your Vacuuming Routines and set it on your Home App.
The entire Weekly or Daily Basis schedule can run smoothly via it. You also will be updated regarding issues, and the device will alert you for carrying out precautions. The details of the cleaning history or the details of the device, everything will just be a click away.
You can effortlessly command your device with the help of the Android App to either halt or function right away, and it will understand your command. It follows the words "start", "stop" and "dock."
The iRobot Roomba e6198 offers a unique variation in the form of onboard buttons where you can easily insert your instruction, and your device will function. You can also instruct your iRobot Roomba e6198 Vacuum Cleaner to go on charging mode or even twirl around to pick up a pile of dirt.
iRobot Roomba e6 comes with a faceplate which serves as a visual indicator like the charging indicator which changes colour from amber to green when your device is fully charged. Also, there is a Wi-Fi indication which ensures your device's connectivity with the internet. You'll also be popped up with another light whenever your device will find any dirt or obstacle.
THE FILTERS THAT SHELTER YOUR BREATH
Roomba e5 and Roomba e6198 come with a fantastic feature of filters that helps trap all the allergens and dust from the atmosphere and protect the humans around.
The Roomba Robot e Series are equipped with High-Efficiency Filtration System. Along with the eradication of such allergens, these Robots also prevent them from roaming back in the air.
The dust particles around the size of three microns can be captured. You can easily rely on their ability to sanitize the environment for you, by removing all the moulds and pollens too.
The Dual Rubber Brush Roll System is unique in a way that it loosens itself and can lift over and function over the wheels to trot around.
iRobot Roomba e5 and iRobot Roomba e6 both serve this filtration task very well. Roomba e6 moreover has an extra second filter in the box which helps at the time of first filter's degradation.
Well, you should remember that replacing filters with the new ones is something you cannot avoid at all. After every six months, you will have to purchase new filters for sure, but in the case of e6, you will have a comfort of not worrying about it for a long time because of the spare filter.
YOU CANNOT BLOW DIRT INTO THE EYES OF iROBOT ROOMBA'S VACUUM CLEANERS!
Roomba e5 and Roomba e6198 come with the capability to identify the accumulated dirt on their own. They are pro at seeking the dirt by sensing it hence making the experience less hectic. Can you embrace this little awe that you've got on your face right now, well you should. This Little Amazing Roomba Robot Vacuum Cleaner is doing it all just right for you. You won't even need to guide the Robots, but they'll sense it all on their own and help you get rid of the mess around. Kudos, Roomba!
BEST VACUUMS OWN BEST SUCTION POWERS
iRobot Roomba e5 and iRobot Roomba e6 are Strength Beasts of suction. They can even work feasibly on carpets and rugs and offer a comfortable experience.
They can even efficiently work on floors and mats with their suction ability. Its suction ability aids in meticulously cleaning every little piece of dirt inside out with ease and perfection. You shouldn't be worrying about it all.
ROOMBA VACUUM CLEANERS CAN SNEAK PEEK EVERYWHERE!
Roomba e5 and e6 come with a height profile of about 4 inches high, thus enabling them to manage cleaning under small spaces as well. They can alter their position and not compromise any nook and corner of the house in terms of cleanliness. These devices come with a soft touch bumper which prevents your device from all sorts of hazards and accidents as they roam around your home's premises.
WASH THE BINS AND LET YOUR MESS SPIN
iRobot Roomba e5 and iRobot Roomba e6 Vacuum Cleaners have washable dustbins which can be removed and cleaned entirely after their peak dirt point and can be used for a new experience again.
Whenever you need to dump your dirt away from your device, you simply need to press the release button on your robot, and it will eject the trash out for you. Old were the times when this wasn't technology, but now it's a comfort-seeking time where Roomba is entirely responsible with it all.
CHARGING IS NOT SOMETHING TO FRET OVER NOW
Both the models iRobot Roomba e5 and iRobot Roomba e6198 are efficient enough to be charged on their own. They can help their users live a contented life.
You need not fret over its battery drainage as the robot itself focuses on self-care. Whenever the battery is about to drain, the device itself recharges without any human's involvement.
The Lithium-Ion Battery of the device helps it to continue for longer runs and smoother drives. It also enables the Suction Power in its active and energetic state of work that means no frustration of getting up, plugging in wires and making those electrons pass through them. It is all automatically done!
CHALLENGE IT IS TO FIND A DISSIMILARITY BETWEEN iROBOT ROOMBA e5 AND iROBOT ROOMBA e6
It's a struggle to find out dissimilarity amongst Roomba e5 and Roomba e6198, but we can say their accessories vary. e6198 contains two virtual barrier unit and a filter of Ultra High efficiency.
Moreover, there is a slight difference between their prices, Roomba e6 is at par in costs as well.
Roomba e5 can be found feasibly online while Roomba e6 can be purchased by retailers or the vendors around. The choice is yours whether to put yourself through the mess of looking for various vendors or sites or merely going for the more straightforward and efficient option.
IN A SEA OF PROS, THERE MAY BE STONES OF CONS
Well, all goods have some bads and so is with Roomba e5 and Roomba e6198. Considering the cons of these, it is an important issue that the cleaning carried out by these is in a haphazard manner as they don't contain a Serpentine Movement Pattern. Also, they have some other negative aspects too, including the absence of camera and some navigation issues.
Moreover, users often complain regarding their Noise Issues, and it's mismanagement at times in cleaning a spot immaculately. These models might even get clogged and create havoc.
Also, the e5 series is somewhat contradictory to the automating charging. They do not understand how to recharge and resume, but they tend to stay on base.
No onboard cameras are installed which causes a hindrance for your Home Mapping Technique.
THE SETTING UP OF iROBOT ROOMBA VACUUM CLEANERS
As many complications that our little Robotic Buddy has resolved for us, it's system setting is way simple to be done. You simply need to unbox your device and plug your device's charging base, let it boost up, and you are all set to cherish your experience. Initially, your Roomba e5 would be entering your life with a fifty percent battery, and you can make use of that and then when it drains out you can go for charging it up and using it till the peak. This draining and recharging will give your battery a good kick start!
iROBOT ROOMBA e5 AND iROBOT ROOMBA e6198 IN THE EYES OF REVIEWERS.
The reviewers generally have an optimistic approach regarding Roomba e5 and Roomba e6198 and flaunt their cleaning capabilities. Albeit, some users find e5 perturbing in terms of noise and the dust cup being too small, causing inconvenience.
These issues are contributed by the users who have had their own experiences. They might've been unlucky, or maybe at times, perfection might meet fallacy and hence goes all your money down the drain.
THE CHOICE IS IN YOUR HANDS, BUT WE RECOMMEND iROBOT E6
iRobot Roomba e5 and iRobot Roomba e6 both are equipped with similar Hardware and Soft wares but yes how well your product is accessorized matter to you; then you should choose the model having leverage over the other in terms of accessories.
Neither is e5 East nor is e6198 West. Both are at the same plethora of perfection with tiny bits of variations. Cleanliness is the real win, and iRobot Roomba e5 and iRobot Roomba e6 are the winners!
The features are a significant Win. While the Roomba e6 will stun you with its mesmerizing features and accessories.